Charity Golf Tournament; Ventura Veterans Center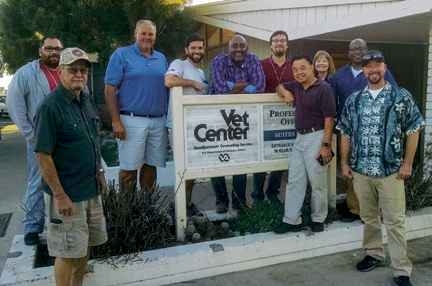 Participants for Local 952's Annual Charity Golf Tournament included: Ken Gajefski Jr. (left), José Perez, Kevin Green, James Hansmeier, Tim Jackson, William Devine, Willie Harland, Venice Honick, Stevie Span and Don Letney.
__________________________________________________________________________________________________________________________
IBEW Journal - June 2018
The IBEW Local 952 Charitable Activities League (CAL) held its seventh Annual Charity Golf Tournament at the San Buenaventura Golf Course. Through generous sponsors, $3,000 in Target gift cards were donated to the Ventura Vet Center. These gift cards go directly to the veterans who come to the Vet Center in their time of need.
The Vet Center has contact with more than 3,000 veterans, ranging from veterans of the Vietnam War to Operation Enduring Freedom. The Vet Center is free to all active-duty and discharged veterans, with a wide variety of services offered including homeless outreach, veteran advocacy, counseling for addiction, couples and bereavement, as well as a helping hand during difficult transitions.
The board members of the IBEW 952 CAL extend their sincere gratitude to the dedicated staff of the Vet Center. As the relationship between Local 952 and the Vet Center grows, the mission to honor and provide for the veterans of Ventura continues to flourish as the veterans transition from military service to the unionized workforce.